School uniforms are one of Britain's long remaining great traditions, among emblems like a nice hot cuppa, the Royal Family, and English breakfasts! In fact, according to Wikipedia 90% of British schools have proudly worn a unique and distinctive uniform – for centuries. The last thing we need is to let the virus claim that as well. School uniforms pros and cons; yay or nay in a post-COVID landscape?
Below We Will Cover:
School uniforms pros and cons, mindful of the pandemic
Tips on keeping uniform laundry Covid-free
The jogging bottoms and hoodies which some Highland schools are using
School Uniforms Pros and Cons in the COVID-era
Pros:
Safest option
Sturdy for multiple washes
Schoolchildren's mental health
Sense of community
Provides structure
Safety first
Eradicates class barriers in the class
Helps with attention and focus
Cons:
Some parents cannot afford the prices
Restraining self-expression
They can be sexist + gender conformist
Pro: Uniforms are the Safest COVID Option
A few people are claiming that returning-schoolchildren should wear their own clothing to combat the pandemic, and that is utterly false. The Schoolwear Association holds that school uniforms are actually the safest option, as we all face Covid together.
Some schools have told parents their children do not need to wear their uniform, under the belief system that: clean clothes are more important to prevent transmission. However, the Association disagrees, saying that uniform is the best way for prevention. 
It is argued that uniform is the best way to limit the spread of the virus since they change out of their clothes once they go home. As long as uniforms are washed every night, or there are multiple shirts and trousers/skirts available each day. If some parents would not be able to afford washing every day, the recommendation is that they alternate everyday uniforms with PE kits.
Pro: Uniform Items are Strong Enough to Survive Multi Machine Washes
Uniform represents a visual distinction between home life and school life. It cannot be guaranteed that a child would remove their personal clothing once they got home. Therefore, headteachers should enforce removing clothes and putting them straight in the wash, every evening after school. But don't worry! Uniform items are far sturdier than fashion clothes and can survive a myriad of washes.
Pro: Wearing a Uniform for the Welfare of their Heads
On top of that, school uniforms are essential for the kid's psychological welfare. Yes, vital, even on that level. In these times, wearing the uniform gives the impression that things are normal again and maintains a strong sense of community, which is what we all need, especially the youngest among us.
Children will be facing so many new and scary distancing measures and masks, that a semblance of familiarity is simply paramount for their mental health.
Pro: Sense of Community
Wearing a uniform as a symbol of unity is so important. Students of all years, present and gone, bond over their school-day garments, which many keep long after they graduate. Traditional uniforms are loved by many, especially those whose children later attend the same schools as they once did.
Pro: Providing Structure During Lockdown Days
Not only do uniforms structure a child's day as they wake up, dress, assume the rituals of packing books and getting their "learning heads" ready for class. Some young schoolchildren in Scotland have found the ritual of waking up and wearing a school uniform has helped structure the countless quarantine days. This builds on the sense of community, mentioned above. "School Uniform Fridays" begun by a Scottish child which was then adopted by primaries across the country. 
Children who missed school and their friends suddenly felt more connected. Realising how important to hold onto some semblance of traditions, a virtual school assembly and virtual sports day are in the works, among other ideas throughout the year.
Pro: Safety First
One example: when personal clothing is allowed, it gives many too much freedom at times for students to wear gang-affiliated wear — whether they wear on purpose or not. A school uniform eradicates this possibility and increases safety.
Another example, students can focus on their work without having to worry that their clothing choices may make them a target for bullying. In the event of a fire, kids are easily spottable, and any truancy attempts are quashed.
Not to mention the safety measures mentioned above regarding protection against COVID-19 and other health benefits.
Pro: Eradicate Class Barriers in Class
When there is no uniform, it becomes very obvious where students rank in financial backgrounds. Visible class markers vanish when you dress all kids in the same uniform, and encourages mixing of classes.
Pro: They Aid in Student Attention Span
It's a flimsy argument, but when there's less distracting external physical stimuli the students focus better. Personal clothing creates something for kids to comment on or respond to, and without it, their energy is directed more into their studies.
Con: Some Parents Can't Afford Them
Regularly, a certain school´s uniform is only usually available from a certain supplier and so prices remain high through having no competitors and a captive audience. As a result, some parents or guardians cannot afford the many uniform items. Especially extras like blazers, or select shoes.
Con: Restraining Self-expression
Famously, teens go through phases of emotional expression and they do this through art, music taste, accessories, hair styles and fashion choices. An area completely of their control to express. It is argued that this is integral to their development and uniforms limit that growth.
Con: Uniforms Can Perpetuate Sexism
The whole concept of the skirt for girls and trousers for boys bolsters the gender divide and can be seen as sexist by parents and schoolgoers. Some schools go as far as to not allow girls to wear trousers at all with skirts as compulsory!
Some young women will come to resent wearing traditionally female apparel. Not to mention, youths struggling with where they fit on the gender spectrum. Uniforms can be very gender conformist and these individuals are presented with limited forms available for gender display.
Tips on How to Keep your Children's Laundry Covid-free
Research says the Coronavirus lives on fabrics for up to three days! With this in mind, it's more important than ever to rock a laundry routine that protects your school community.
Children are encouraged to stay in pods or class bubbles, a way of buddying-up to stop the spread. Understandably many parents have been nervous about the looming school return date and now it's here: we have some tips.
Cleaning Versus Disinfecting
There is an important distinction between cleaning clothes and disinfecting them. Cleaning is the removal of dirt and surface germs. But then, disinfecting is more to do with using chemicals to kill germs or deactivate their reproduction.
Quite obviously, the deeper disinfection of clothes is the safest option for children's uniforms. Let me go on…
Machine Bleach the Crap Out of it at High Temp
Washing school uniforms at temperatures of above 60°C to kill germs with a bleach detergent in place helps disinfect clothes. Think of it as something like a zombie apocalypse on the surface of your clothes, and you're armed with a zap-gun.
Make sure you wear gloves while handling the clothes and be careful because children's skin is sensitive, so choose a bleach product wisely! Hot water activates the detergent and deactivates the bacteria.
Never lose sight, however, of the care instructions on the labels of all clothing. Delicate clothes might be damaged, but uniforms are usually quite sturdy. 
Read our guide on the best care tips for personalised garments.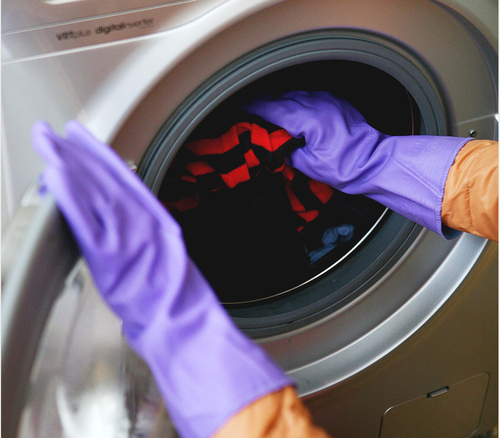 Don't – Whatever You Do – Shake the Dirty Laundry!
It's quite obvious when you think about it. Shaking the clothing can release virus particles into the air and catch on other surfaces. Sod's law, really. On top of that, using a dryer is also very important as bacteria and viruses just love to shack-up in damp surfaces!
Blazers + Ties
If your school uniform contains a blazer, it is not common to wash this as much as the other garments, but pandemic recommendations say this cannot continue.
Frequently made from polyester or wool, blazers are usually happier with a machine wash at a cooler temp. While this does not fully disinfect the clothing, an alternative is offered. Hold a steam cleaner ALL over the blazer at over 60°C. (A steam-generating iron is a close substitute.) Do not tumble dry as they might shrink or shed colour – especially wool.
Sports Kits
While contact sports are not encouraged by the government, teachers will be able to give PE lessons in a new socially-distanced manner. In this way, PE kits need to be disinfected just the same. If not more.
Sportswear usually gets dirtier than other uniforms. Similarly, school sports kit must be washed at a high setting using the same bleach products. Avoid settings reserved for sportswear as they are typically cooler temps for the synthetic fabrics. Also, avoid wearing the kits more than once after a wash.
School Shoes + Trainers
Much like the sportswear, shoes get very dirty – you don't say! Chuck them in the machine too. Supposedly, in a pillowcase will stop them from damaging your machine. Then, leave them in an airing cupboard with possibly some newspaper balls inside, until bone-dry.
Wiping the shoes down with an anti-bac wipe can do the job though, or using gloves remove the laces and add those to other clothe-loads of washing.
In actual fact, the risk of contracting the virus from school uniform is reportedly quite low, given that the children meet the distancing regulations and wash hands frequently. Washing school uniforms every single day is not completely necessary, but changing the uniform throughout the week is all gravy.  
School Bags and Pencil Cases
Much like the blazer, the school bag is not washed as frequently as other uniform items and this must change. Bags are exposed to many environments throughout the day and may also infect items inside them.
They can be washed based on the fabric they are made of. For example, Cotton and Polyester can be washed in the same way as other uniform items. But if it's leather or a delicate material maybe just give it a wipe down with anti-bac wipes or disinfectant spray even! For pencil cases, I suggest the same.
Either way, they must be bone-dry before being used again. And if using public transport, encourage the school child that their bag is kept on their lap, not touching any surrounding stimulus. You could tell them it's like playing that ol' Operation board game. Don't touch the edges for fear of a "zap!".
I recommend that schools everywhere include the above information in a letter sent home to parents. It would go a long way.
Check personalised branded uniforms that Printsome can provide for you. We offer Screen Printing, DTG printed, vinyl and transfer printing + embroidery too for your custom school-wear. Amazing, award-winning customer service, give us a try. 
Some Schools Disagree and Offer Branded Hoodies Instead
Some schools deep in the highlands of Scotland pose an alternate idea. They are offering a branded tracksuit combo in the place of blazers, ties, shirts and kilts. One such school: Lathallan, prides itself in its uniform, however as schools everywhere reopen, it is ditching it for hoodies and jogging bottoms. 
The switch is, coupled with social distancing, supposed to provide clothing easier to wash regularly and to keep students warm while they move most of their lessons into the great outdoors!
A survey reported that 90% of parents agreed with the swap to casual. The aim for them is to return to the formal-wear when the time is right. These new safety measures would extend to teachers and staff as well. 
It has been argued that in the light of families with fewer resources, the change in uniform is simply an exaggeration. Health workers indeed treat their clothing as bio-waste after use as the virus can host itself in fabric for up to three days, but schools are not high-risk areas like hospitals. It's all about risk management and schools do not pose a major risk of transmission. Provided that hands are regularly washed.
If you don't quite want to go as far as to drop smart for super-casual, you could arrange an interim uniform of branded Polo shirts. This upholds smartness in two ways, by appearance, and as a smart alternative of sturdier fabric, which can put up with more washes + wear-and-tear. Clever!
Do you need to print custom hoodies and trackies? Printsome offers Screen Printing, DTG printed, vinyl and transfer printing + embroidery too for your custom school-wear. Give our friendly, award-winning customer service a try!
Lastly, Stay Safe!
To summarize, essentially, we want children to return to schools with as much normality as possible, so as not to freak out the poor little things. This translates to their school-proud uniforms and the advantages and disadvantages of this unified type of attire. In this way, we looked at some pros and cons of school uniforms and whether sticking to them, or not, is relevant in a post COVID world.
We have discussed some important tips on how to wash uniforms, shoes + bags, looked into a little science behind virus transmission and how on Earth to stay safe! Washed uniforms are better than personal clothing, but also, that if you decide to switch your school uniform to jogging bottoms that's also fine. As long as there is a separate attire reserved for school hours and home-time, then we have the best chance of beating this virus once and for all!
If you want to keep your school's uniform or switch to Polos + trackies, Printsome is here to provide for you!